5 tips for better loading dock maintenance
8/19/2020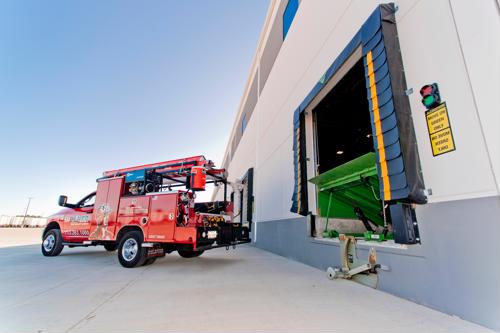 In most industrial workplace settings, the loading dock is likely to be the lifeblood of your operations. If you can't keep materials and finished products flowing in and out smoothly, it can significantly hinder your business and put you well behind the 8-ball when it comes to dealing with your various partners or customers. As such, you need to make sure that area is well-maintained and sets you up for ongoing success.
How can you do that? Here are a few basic ideas that will help keep things flowing smoothly if you give them a little extra attention:
1) Keep it clean
Given the amount of materials moving through your dock, it should come as no surprise that excess trash can pile up quickly there, according to R&S Erection. With excess packing materials alone, you may fill trash bins almost as quickly as you can empty them, but leaving debris on the ground is not a good idea for both efficiency and safety reasons. As such, a set schedule to make sure someone is at least checking on this issue throughout the day.
2) Keep an eye on dock doors
If your loading dock employees are in the habit of opening and closing the doors throughout the day, rather than leaving them open, they might go through more wear and tear than you realize, R&S Erection said. With that in mind, aim to assess the condition of your doors — and the mechanisms that control them — on a regular basis to ensure you can keep them in good working order.
3) Don't use damaged equipment
Suppose the track your loading bay doors run on isn't working properly. Your employees need to understand implicitly that they shouldn't try to force it through, as that might only do more damage, according to Loading Dock Pro. The same logic applies to other pieces of equipment like pallet jacks, wrapping devices and so on. It may create a small efficiency issue while you wait to get the small problem repaired, but it avoids a longer period of downtime if there's a more serious breakdown later.
4) Keep tracks and paths clear
If you have roller tracks on your dock, or even if you just have specified areas for transporting goods, it's important to make sure there's no debris blocking easy movement, Loading Dock Pro added. Even a small piece of cardboard on a roller track can stop your equipment and cause a jam that takes special tools (and extra time) to address. If you want items flowing smoothly through your facility, you can be more proactive about clearing those paths.
5) Inspect every piece of equipment regularly
Along similar lines, it's a good idea to set an inspection and routine maintenance schedule, making sure they're conducted regularly (as often as "before each use"), according to Warehouse Technology Inc. That way, there are no surprises, and any potential issues are handled quickly and easily to ensure intended efficiency.