6 types of cleaning supplies your factory needs
7/28/2020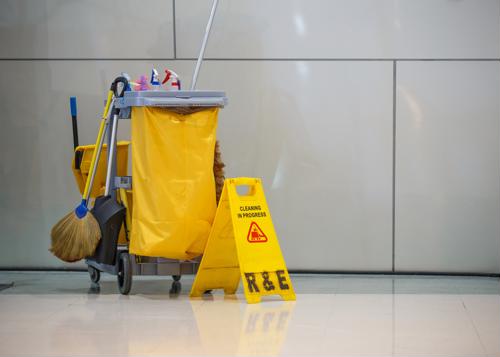 In any industrial setting, the need to clean up effectively is paramount to safe and smooth operations. Even one small cleaning issue can quickly balloon into a full-on dangerous situation, so staying on top of everything is an absolute must.
That means you need to provide your cleaning staff with all the tools to tackle any job, from the mundane daily tasks to the serious hazards that can arise in a factory. The following are essential weapons in any industrial cleaning arsenal:
1) Industrial cleaners
While there are undoubtedly parts of your facility - such as the office or break room - where consumer-grade cleaning supplies are perfectly effective, you probably also have needs that go well beyond what those items provide, according to Rocky Mountain Industrial Supply. For that reason, you need to investigate which kinds of high-powered, heavy-duty cleaners you will need based on the kind of work your factory does on a daily basis.
2) Something to scrub, sweep and clean the floor
Along similar lines to having the right cleaning products, there may be some industrial cleaning jobs for which the kind of broom or mop you use in your home just won't cut the mustard, Rocky Mountain Industrial Supply said. Giving your floors a deep clean is a must, and workers have to have the right tools for the job.
3) Vacuums and filters
In an industrial setting, vacuum cleaners that are able to handle big spills, especially those involving hazardous materials, need to be on hand, according to Cleaning & Maintenance Management. Likewise, you have to make sure those vacuums have all the appropriate filters to handle those materials. You never want to be in a situation where your workers have to go without.
4) Equipment to set up a perimeter around spills
Whether it's a spill involving dangerous materials or just a freshly mopped floor, you need to be able to keep other employees away from risk, Cleaning & Maintenance Management advised. Sometimes, all that's required is a small, stand-up sign, but in other situations, you may need light, transportable fencing.
5) Effective PPE
Just like you would absolutely provide proper protection for your workers on the production line, it's critical that your cleaners have the same kind of access to personal protective equipment, according to the Occupational Safety and Health Administration. That means planning for any eventuality, including cleanup projects that require heavy-duty boots, gloves, masks, goggles and more. If you make the investment correctly, your cleaners and other workers will not face as much risk.
6) Proper ventilation in the storage area
Finally, because you are likely to have large quantities of industrial cleaners and chemicals in your storage area, you must ensure you can store them safely, OSHA noted. Just like you would make sure your storage areas for other hazardous materials are properly ventilated, you need to make sure your janitorial closet or office has the same level of protection.