5 things all manufacturing workers should know about safety
5/12/2020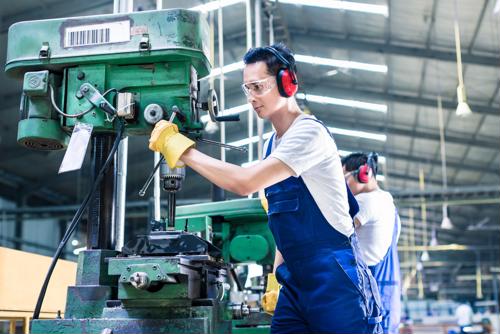 In just about any kind of workplace, it's vital for everyone from entry-level employees to the top executive to keep a strong eye on maintaining a perfect safety record. However, it's especially critical in the potentially dangerous work settings common to manufacturing.
Safety is an issue all involved has to take seriously, and the following tips are just good practice for anyone who's on the shop floor, whether it's for a routine inspection or everyday work:
1) It's important to pay attention
Perhaps the most important tenet of upholding a strong workplace safety posture is for workers to keep their heads on a swivel and never get distracted while they're around heavy equipment, according to eSafety. There may be plenty of reasons for workers to become distracted - a conversation, a phone call or text, etc. - but all of that can wait until after they are out of an area where risk is higher.
2) Breaks are a good thing
Companies should never want employees to be at their work stations for too long at any one stretch, and should encourage regular breaks as a result, eSafety advised. When workers get into a repetitive motion, it's easier for them to "zone out" and lose concentration, or just become a bit more tired over time. In both cases, the potential for a lapse in judgment or attention grows, so giving people even five minutes off every half hour can be a big help in keeping their concentration levels high.
3) Training is needed for all equipment use
There may be many instances where a factory worker feels they can easily operate any type of equipment under your roof, but they should not be allowed to do so without proper training, according to Alsco. Of course, companies should always train their workers in the best practices for safety around heavy machinery, but if workers haven't gone through the proper training or don't hold essential certifications, they should not be allowed to use it.
4) The right gear goes a long way
Every worker knows that proper protective gear - whether that's a hard hat and gloves or ear and eye protection - is critical to avoiding injury on the job, but the same is true of other gear as well, Alsco said. Depending on the work they do, your employees should have proper footwear, height protection and more available to them on an ongoing basis, with such equipment being replaced at the slightest signs of wear and tear.
5) Taking even a small risk isn't a good idea
Finally, seasoned workers may feel as though they can do their jobs blindfolded and, with that confidence, make decisions that could put themselves or others at risk in the name of convenience, according to Atlantic Training. Of course, that old adage that you can "either do things the quick way, or the right way" holds true - taking shortcuts is never a good idea, because the potential risk far outweighs the bit of extra time or effort saved.