5 tips to safely drive a forklift
4/22/2020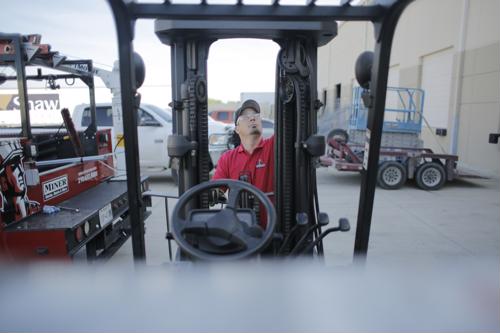 When you have a forklift in your manufacturing facility, the most basic rule of safe operations is to only allow those with proper training and certification to get behind the wheel of these vehicles. However, even if people have all the right instruction on how to safely drive a forklift, there's still more to safe ongoing operation.
With that in mind, you need to make sure your forklift drivers are all adhering to the following protocols aside from simply driving slowly and taking corners carefully:
1) Wear the right clothes and protective gear
As with anything else in a factory, it's important for forklift drivers to avoid wearing any clothing or footwear that's inappropriate for the job, according to the Adaptalift Group. As it relates to this equipment specifically, baggy clothes and soft footwear are the real risk factors for what a person should avoid when getting dressed for work, but you should also make sure have safety gear including hard hats, work gloves, reflective vests and so on available to these drivers.
2) Look it over before you start it up
Making sure all components of the forklift are in good working order before starting it up is a must, the Adaptalift Group added. By taking this critical step - either before each use or at least at the start of every working day - operators will avoid a potentially costly and dangerous breakdown in the middle of the shop floor, and can get to work on fixing or replacing any problematic parts they spot.
3) Make sure warning signals are working
Certainly, an important part of any pre-use check is ensuring the forklift is safe not only for the driver, but other workers as well, according to Creative Safety Supply. That means any warning lights should be tested before use, and the same is true of backup-warning signals. This way, you can increase the certainty that other workers will be fully aware of when they're in the vicinity of a forklift and can act appropriately.
4) Make sure floors are properly marked off for forklift traffic
This is more of a change managers need to make, but it's still vital to ensuring safety around a forklift, Creative Safety Supply noted. Simply put, you can't have these heavy machines driving where they please throughout your facility, and should instead designate areas where they are and are not allowed to drive. That includes not only up and down aisles, but also across the spaces between them. And just like any road intersection, drivers should always stop and look to make sure it's safe to cross.
5) Keep the load secure
Finally, any time the forklift is carrying something, whether it's relatively small light or extremely large and heavy, it needs to be properly positioned on the lift and secured, according to EHS Today. Drivers should be trained in the proper methods of making sure the load isn't going to shift while being raised, lowered or while being transported from Point A to Point B.