5 slip-and-fall risks to watch out for in your factory
4/21/2020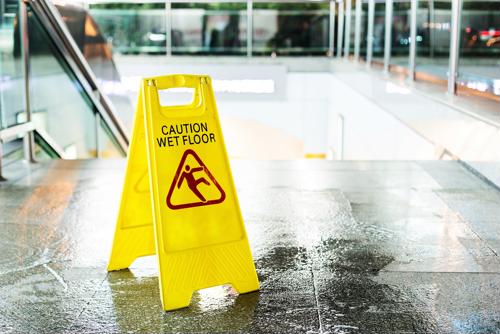 Manufacturing facilities have many things in them that can put workers at risk for injury or accidents, but slip-and-fall hazards are hardly unique to this industry. With that in mind, an occasional review of the most common causes of such incidents will help your company avoid them on an ongoing basis.
The following examples are likely the five biggest reasons for employees to fall while on the job, and you should do what you can to reduce those risks going forward:
1) Slick floors
Perhaps the most obvious way for manufacturing employees to slip and fall at work may seem unavoidable: Floors need to be mopped and that leaves behind wet surfaces, according to The Balance Small Business. However, you can do more to make sure workers don't unexpectedly step into these areas, by posting signage, mopping during off hours (if you have them) and otherwise doing more to make it obvious that the floor is slick and should be avoided.
2) Uneven surfaces
Slip-and-fall incidents at work don't just happen on the factory floor; they can also take place in parking lots, walkways, loading docks and more, The Balance Small Business added. Often, the surface of these areas may be uneven, cracked, loose or otherwise more hazardous than one might expect. When these issues are spotted, they need to be addressed as soon as possible to help ensure no one slips, trips or stumbles.
3) Changing heights
When your employees are hard at work in your factory, they may not always notice the surface conditions, whether they're slick or uneven, but more obvious risks can elude their notice on occasion, according to Occupational Health & Safety. Many slip-and-fall injuries occur when a worker inadvertently misses a step on a flight of stairs, or even steps off a high surface like a loading dock. As such, you should do more to properly mark these areas, or install new surface textures so they're easier to spot.
4) Unexpected objects
Of course, even if you're taking all necessary precautions on the business and management side of the ledger, there are still risks that can crop up from careless behavior, Occupational Health & Safety added. People leaving spills or debris unattended in a factory setting poses a major slip-and-fall risk and it takes a collective approach to keeping these incidences as close to zero as possible. Training workers on why this type of behavior is dangerous and unacceptable is always a good idea.
5) Insufficient lighting
The four previous examples are the most obvious cases where slip-and-fall hazards can crop up in your factory, but one that often goes unnoticed is when facilities are not lit properly, reducing visibility that can enhance the risks that come with the above examples, according to EHS Today. For that reason, you may need to do more to invest in making sure every square inch of your factory is well-lit, and you have a plan in place to swap out old bulbs when they burn out.