7 keys to improving worker morale
4/28/2020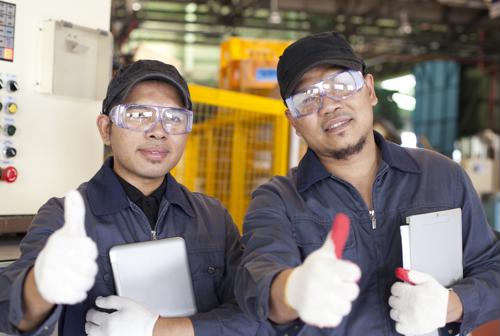 Especially in uncertain economic times, you need to do all you can to make sure your workers are content every time they come to work. Even a small drop in morale can translate to diminished efficiency and a thinning bottom line, so that's something you want to avoid at all costs.
Stronger employee morale is a great way to achieve that goal, and it doesn't have to cost much - or anything - at all to foster. The following steps should help you get where you need to go:
1) Create more channels for communication
When workers feel cut off from their managers - or that they can't be open and honest with them - they're less likely to feel engaged at work overall, according to The Manufacturer. Fostering a more collegial relationship between managers and even executives will help keep all involved a little more tightly knit - and make everyone want to pull in the same direction for each other.
2) Incentivize the best work possible
Typically, any factory is going to have weekly, monthly or quarterly goals for production, The Manufacturer advised. When you hit those goals, you should reward the workers who helped you get across the finish line, whether with public recognition or - for periods when you blow past your markers - a team lunch, prizes or something else with tangible value.
3) Continually push them to develop new skills
Companies can only grow if they have the talent to achieve their goals, and that means fostering skills among workers on an ongoing basis, The Manufacturer further noted. Whether that's as simple as a monthly training session or giving workers the opportunity to "skill up" with financial assistance you provide, this is an effort that should be seen as investing in everyone's collective future.
4) Provide feedback
No adult wants to feel like they're "in trouble" - so a little positive reinforcement goes a long way, according to Global Electronics Services. When you're hitting your goals, talk to workers about what they're doing well. When they're not, encourage them to improve - and give them the resources needed to do so.
5) Don't work them to the bone
When employees feel like every day at work is a grind, they can start mentally checking out more frequently, Global Electronics Services added. Not just allowing them to take a full hour for lunch, but encouraging them to do it, is a great way to boost morale. In addition, you should give workers more vacation time as a general rule.
6) Maintain a strong culture
Think about any TV show about a workplace, and what do they all have in common? Community, according to Inc. When workers care about each other, that builds a strong team culture, so providing extracurricular opportunities can be a great way to bring everyone together.
7) Boost their pay and benefits
If you truly want your workers to feel appreciated, the easiest way to do it is by improving their compensation, Inc., cautioned. Higher salaries and better benefits and perks will go a long way toward keeping workers around for the long haul - and attracting them in the first place.