6 tips to boost motivation in your factory
3/9/2020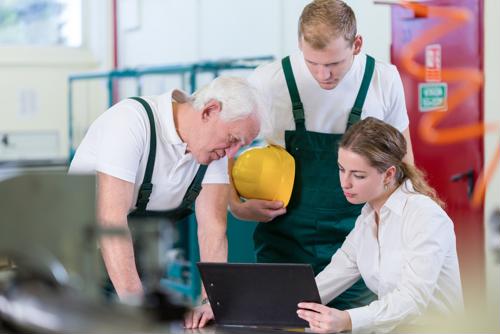 When you're running a manufacturing company or managing a team within a larger organization, you need to make sure you do all you can to get the most out of every shift. However, that's not always easy, and it likely requires you to get a little more proactive and creative when it comes to motivating your workers on an ongoing basis.
The following tips should help you do just that, and in doing so, you should be able to take a huge step forward as an organization:
1) Improve the environment
Perhaps the most straightforward way to make your employees more excited and engaged at work is to make the actual space they work in more motivating and comfortable, according to Real Business. Something as simple as motivational posters are proven to work well in helping people achieve goals, but you might also want to provide safety padding that make it more comfortable to stand in one place for a long time, as well as more break room amenities.
2) Make it clear: Staff always has your support
Often, workers will feel like they cannot go to their bosses with some of their everyday work problems because they either think they will face repercussions or the issues will simply fall on deaf ears, Real Business added. That can't be the case if you want to properly motivate your team. When employees know you have their back no matter what the issue is, and you'll always do what you can for them, they'll be more engaged.
3) Recognize success often
If your team works hard for you on a daily basis, you need to make sure you show just how much you appreciate it, according to Lean Six Sigma. Whether you reward an entire team for hitting all its goals in a given quarter or make sure a few standout employees get the recognition they deserve, having awards, prizes and the like for a job well done is always a good idea.
4) Provide regular training
Workers may feel more connected to your company's overall mission if you regularly provide training sessions that teach them new skills or reinforce existing ones, Lean Six Sigma recommended. Companies should always strive to reinforce to their employees that they see the value those people provide every day, but want to help them advance with the business in any way they can.
5) Don't micromanage
No one likes having the boss breathing down their neck, and as long as your team is generally performing well, you shouldn't get too heavily involved in their day-to-day work with check-ins and the like, according to Snack Nation. You should support the people who need it, certainly, but if people work well without constant supervision, let them take their own initiatives.
6) Give better pay and benefits
Simply put, the best way to make sure your workers are engaged with the company's mission and direction is to go above and beyond local competitors in terms of both pay and benefits. Doing so will help you both attract and retain talent to help you grow and evolve on an ongoing basis.