6 ways to avoid hand injuries in manufacturing
2/25/2020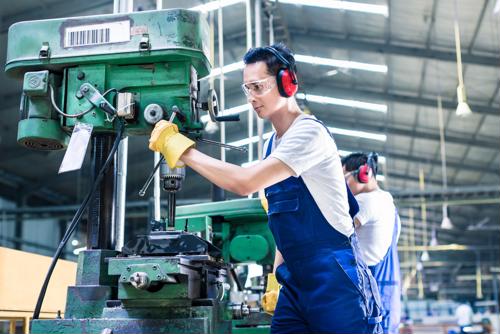 One of the most common types of injuries in manufacturing settings affect workers' hands. After all, they're likely putting their hands through a lot of different tasks around heavy equipment over the course of a day, and completing other tasks that can be quite repetitive. As such, more needs to be done to protect those workers as they go about their daily tasks.
Here are some tips to help reduce factory hand accidents and injuries:
1) Know the risk factors
Every manufacturing job brings with it different risks around hand injuries, and you have to know what they are and educate employees about them, according to Real Time Pain Relief. These can vary even within the bounds of a single facility; some workers may be at risk because they work with machines, while others are at risk because they do the same tasks hundreds or more times per day, every day.
2) Provide protective gear
As an employer, it's your duty to make sure workers are properly protected, and that certainly includes providing the right protective clothing and accessories, Real Time Pain Relief noted. Whether that's something as simple as safety gloves or braces, or something else entirely that's specific to their unique jobs, if they don't have the right equipment, you're leaving them at unnecessary risk.
3) Don't make them go too hard for too long
Two of the biggest risks people run into over the course of significant manual labor like this are repetitive stress and fatigue, according to Occupational Health & Safety. For that reason, you would be wise to build plenty of breaks into their day, whether that's letting them head to a room where they can relax a bit or put them to work on other, less physically intensive tasks, so they continue to stay sharp on the production line.
4) Provide training
It's always a good idea to make regular training a part of your ongoing processes, and that should certainly include safety trainings and tips for best practices to avoid injuries to the hand or other parts of the body, Occupational Health & Safety added. That way, workers will always know what's expected of them in any given situation, and will take a more cautious approach to their everyday tasks.
5) Encourage a culture of accountability and personal responsibility
Among the most common causes of injuries in the workplace is when issues arise and people don't necessarily know about them or, worse, ignore them, according to the Law Office of James Hoffmann. As such, employers need to encourage workers to let supervisors know about specific risks they've spotted, so these can be addressed quickly and safely.
6) Make sure all machines are in good shape
Regular maintenance is a part of an effective manufacturing operation, but it's not always seen as a worker safety issue, the Law Office of James Hoffmann cautioned. If you ensure your machines are all running at or near peak efficiency on a regular basis, you're not only avoiding unnecessary breakdowns in the production process; you're also helping employees avoid injuries.