6 ways to boost talent retention
2/12/2020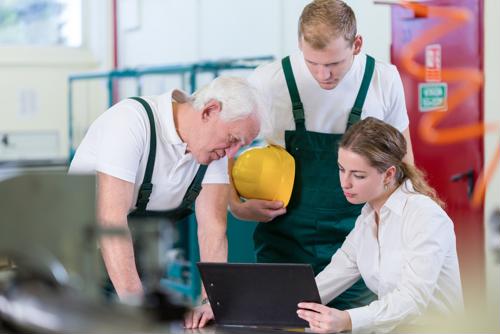 One of the biggest problems companies in just about every industry have is struggling to retain talented workers over the course of a few years or more. Especially in highly competitive industries like manufacturing, where there's always a need for highly skilled workers, some may take it as a given that people will want to move on eventually.
That doesn't have to be the case, though: There are plenty of ways to tweak your organization to boost retention and help you succeed in the long term. Those include the following:
1) Improve engagement
Making sure employees are properly engaged with their work and your company's mission isn't always easy, according to the Harvard Business Review. Often, it comes down to the individual, rather than a collective issue, so it's important for managers to start talking to workers 1-on-1 regularly to see how they feel about where the company is going, how they see themselves fitting into that future, and finding ways to make them feel a little more connected.
2) Help workers tap their potential
Among of the biggest reasons workers may not feel particularly engaged with the company is that they haven't been given much of a clear vision for their own future, the Harvard Business Review added. It's not always easy to see that path up the corporate ladder or to understand how they can keep developing their skills, so it's incumbent upon companies to help them see the opportunities.
3) Improve flexibility
Companies that keep a tight leash on their employees may often find that it's hard to keep them happy, according to Snack Nation. For that reason, letting a worker who is otherwise in good standing duck out an hour early to catch their kid's baseball game or school play, take a spouse to the doctor or otherwise just deal with the occasional "life stuff" - with the understanding that they'll make up the time missed later - is a great way to make employees feel good.
4) Focus on the workplace culture and community
It's difficult for workers to feel engaged with the company or their colleagues when there's not much of a sense of community, Snack Nation noted. As a result, having the occasional team-building exercise or work party to help strengthen those bonds can go a long way toward enhancing camaraderie and, as a consequence, their willingness to work harder for one another.
5) Clarify expectations
Sometimes, companies don't necessarily do a good job of letting employees know what is truly expected of them, according to PSI. For that reason, it's important to spell out individual goals for every worker, whether those are tangible or intangible. Giving a person a clear path forward is always going to help them stay more engaged.
6) Improve two-way communication
Just as you do more to make sure workers know what's expected of them,make it clear that you hope they'll do the same for you, PSI advised. Having a policy that welcomes open, honest discussions about what's working and what isn't in your facility will help workers feel like their input matters.