5 ways to attract and retain manufacturing employees
1/14/2020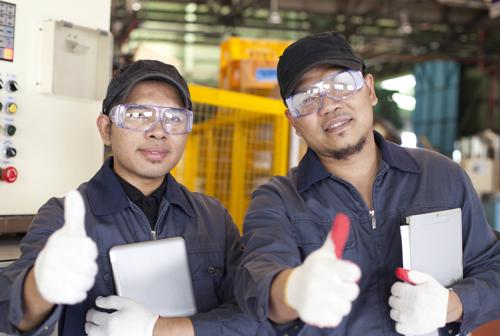 One of the biggest challenges for any manufacturer these days is there's just not a huge pool of talent available - meaning it's vital to be able to retain your current workers and attract new ones. However, that's easier said than done, especially in a manufacturing environment in which uncertainty continues to loom.
What can your company do to bring in and hold onto the talent you need to succeed? The following tips should help:
1) Set the expectations early
When you post a job listing, it's vital to make sure everyone who reads it knows exactly what they would be getting into, according to Travelers. That means clearly spelling out prerequisites to get the job in the first place, what would be required of the candidate, and what they can expect in terms of compensation. In this way, there are no misconceptions that lead to potential quick turnover.
2) Offer training - both initially and on an ongoing basis
In today's manufacturing environment, you can't be afraid to train workers who have many of the skills you're looking for, but not all of them, Travelers added. That can be a great way to get people in the door, especially if you also assure them that, as your operations grow and evolve, there will be more training opportunities to make sure they're always on the cutting edge of the industry.
3) Provide flexibility
When it comes to scheduling, today's workers like to have plenty of flexibility in their lives, according to the Society for Human Resource Management. What that means for companies is that giving employees the ability to duck out of work for an hour to pick up the kids at school or go to a doctor's appointment is an increasingly preferred perk of any job, and it should be no different in manufacturing. As long as employees are getting their work done and remain in good standing, letting them leave early, come in late or otherwise take some time as necessary is always a good idea.
4) More engaged management
Workers don't like to be in the dark about where they stand with management, so having regular reviews with their supervisors is often advisable, according to Inc., magazine. That doesn't mean people want to be micro-managed - far from it - but the occasional check-in will go a long way to help workers feel more in line with the company's mission.
5) Give workers room to grow
While some employees may be perfectly satisfied to stay in their jobs forever, others may want to advance up the ladder, Inc., advised. Giving them the opportunity to do so will help them see a long-term future with your business - and help you flourish together for years to come as a result.
Of course, this all comes in addition to the need to offer high hourly pay and strong benefits packages that will help you keep your business going strong, even in the face of significant competition.