5 ideas to improve manufacturing worker engagement
1/7/2020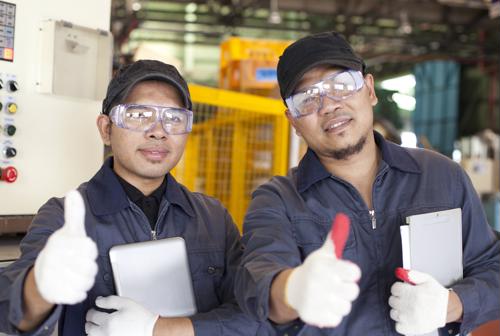 Worker engagement isn't always easy to achieve, but it's absolutely vital to ensuring your company operates effectively on an ongoing basis. For that reason, it's critical that you do more to boost engagement in a number of different ways, so that your workers are happier and more productive as they arrive at your facilities every day.
Whether they're on the factory floor or in your management suite, there are plenty of ways to make sure employee engagement stays at a high level, including the following:
1) Give them everything they need - before they need it
It's a basic fact of life that workers aren't always going to get the resources they need, and while you can't anticipate everything, you can certainly try, according to The Undercover Recruiter. Having a repository of resources employees can turn to when they have questions or specific needs, whether that's questions about certain aspects of their work or physical supplies they may need to get a job done, may be helpful in reducing frustration.
2) Recognize great work
When your employees do a good job, make sure everyone knows about it, The Undercover Recruiter advised. Whether they're singled out for praise during an all-hands company meeting, or even just within their team, it can be a great idea to let everyone know how well they've done. Including a small token of your appreciation, such as a gift card or plaque, may take a little investment, but it also gives other workers something more to aspire to.
3) Speak with workers about their roles on a regular basis
While some employees will be more than happy to stay in the same role for years or more at a time, others may want to progress up your corporate ladder as best they can, according to leadership expert Brent Gleeson, writing for Forbes. Consequently, it's a good idea to talk with those workers about what their hopes are for their future careers. If you can help them find a path forward, they will probably be extremely appreciative.
4) Train, train, train
One of the best ways for workers to feel as though they're keeping up with the times as your company continues to evolve is to train them regularly, Gleeson cautioned. Providing them with regular training sessions or courses will help them feel more connected with their jobs and the company's direction, plus provide valuable skills that help both employees and employer succeed simultaneously. For these reasons, it can also be a good idea to sponsor worker enrollment in outside courses to further their careers or skills as well.
5) Build a sense of community
When you want your workers to feel engaged with their jobs and your company as a whole, it's important to make them feel like they're part of a family, according to Biz Library. The more you can do to foster strong, positive relationships - not only between co-workers, but also supervisors and subordinates - the more likely it becomes that everyone is happy or even excited to come to work.