6 keys to manufacturing safety culture
9/17/2019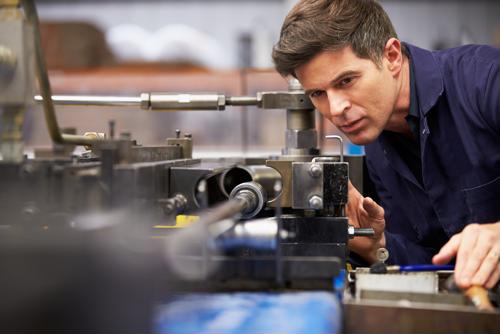 A factory can be a dangerous place to work if companies and employees alike don't have a strong commitment to safety. With that in mind, it's vital for everyone to pull in the same direction when it comes to keeping the culture around workplace safety as strong as possible.
The following tips should help you create that strong atmosphere, and keep it going for years to come:
1) Make cleaning up the focus
One of the most common hazards in any factory setting when it comes to injury is debris or liquids causing slip-and-fall risk, according to The Safety Company. As a result, you should make sure all employees have a stake in keeping workspaces clean and free of any such problems, rather than consigning those issues to "someone else's job" because they have their own tasks to tackle - cleanliness and avoiding risk is everyone's job, and lapses require immediate attention.
2) Make sure equipment is properly maintained
The other primary risk in most manufacturing facilities is the powerful machines that drive production, The Safety Company added. Even one breakdown or failure can put workers at significant risk, so you need to prioritize instituting a regular inspection schedule and have plans in place for preventive maintenance if any issues are detected.
3) Set up training
It stands to reason that if you're trying to boost safety buy-in from employees, it's critical to make sure they know what they're buying into, according to California's Manufacturing Network. Set up comprehensive and regular training sessions to better educate them about the proper procedures for both general safety and tips related to their specific roles. Generally speaking, this should be an ongoing effort, rather than a one-and-done step.
4) Create a committee
As your manufacturing company grows and evolves, so too will its safety needs . Thus it becomes important to have people in charge of reviewing and codifying standard procedures, California's Manufacturing Network cautioned. When an entire team is involved - comprising people from the boardroom to the factory floor - it becomes easier to establish baseline strategies to ensure a strong, clean safety record overall.
5) Keep personal protective equipment in great shape
In much the same way as you're trying to keep your machines and other equipment in great working shape, you should also ensure all the gear your employees wear as they go about their work meets stringent safety standards, according to Bancroft Industrial. That means having workers check all their equipment on a daily basis and reporting any wear and tear that needs to be fixed or replaced. Likewise, this requires companies to have plenty of extras on hand at all times.
6) Establish clear guidelines for everyone to follow
All top stakeholders should strive to make sure the safety rules for your company are easy to understand, simple to accomplish and reinforced regularly. When employees don't have to think much about what they need to do in any given situation, they're far more likely to stay on task, and stay safe.