6 KPIs to monitor in your factory
9/16/2019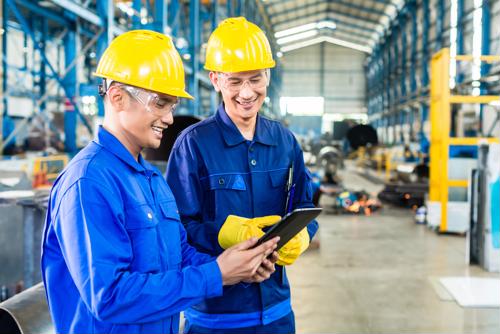 When manufacturing companies are working on improving their processes, there may be simultaneous information overload and an uncertainty about what data is going to be most effective to leverage. Your factory may have dozens or more data points to monitor, but deciding which are most important to focus on as you try to streamline your processes isn't always easy.
The following six key performance indicators will at least provide a strong jumping-off point for taking that next step:
1) On-time delivery percentages
When you agree to delivery dates with a client, meeting them as consistently as possible is a must when it comes to building a strong reputation and maintaining positive customer relationships, according to LNS Research. With that in mind, you should always strive to keep an eye on the percentage of product shipments that reach their destinations on time and as expected. If you notice a decline or increase in this number, it's important to find out why that happened.
2) Turnaround times
Along similar lines, you should consistently be monitoring how quickly your raw materials arrive are processed into a finished product, and sent back out the door, LNS Research added. If there's a sharp uptick in turnarounds, you might need to investigate whether kinks have cropped up in your system, and determine what to do to address them.
3) Capacity utilization
Every company has at least a rough idea of how many products it can churn out in a given day, week or month, but there's a difference between peak capacity and normal operations, according to Rhythm Systems. Keeping a running tab on your output relative to what you can do when you're running at full operational capacity will help inform how many additional orders you can take on, or whether you might need to invest more into expanding capacity so employees and machines aren't over-taxed.
4) Downtime
Conversely, you should also strive to keep tabs on how often you aren't using machines, or the frequency with which they need to be shut down for maintenance or repair, Rhythm Systems advised. Often, you may find that these issues arise more frequently than you think, or how long they take to get back online, and it might be wise to consider strategies to improve those numbers.
5) Product defect ratio
No company has a perfect manufacturing process that allows them to produce perfect items 100% of the time, according to Planet Together. However, there may be increases or decreases in your defect rate in a given period, and this will also provide you with an opportunity to investigate why that happened, and what you can do to address those issues.
6) Materials costs
The amount you pay for the materials used to make your products likely changes more frequently than what you charge your customers for finished items, Planet Together noted. You may need to do more, then, to ensure you're maintaining a strong profit margin by keeping a closer eye on materials costs, and adjusting your own prices accordingly whenever necessary.