Chicago hoping for minimum wage hike soon
8/27/2019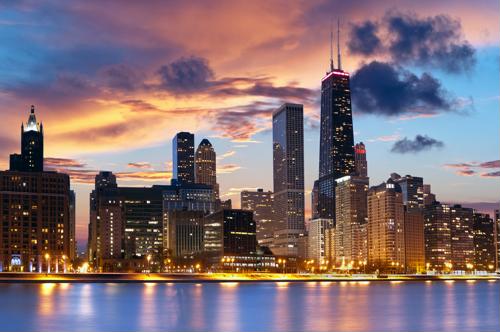 Major cities across the country have instituted significant minimum-wage increases in recent years. The cost of city living is hardly low, and lawmakers in those places now recognize how much more needs to be done to ensure local workers can earn a fair, living wage.
Now, Chicago is joining that wave, eager to ensure the Second City's lowest-paid earners can more reasonably afford their everyday expenses, according to local public television station WTTW. Currently, Chicago has a minimum of $13 per hour - up from just $8.25 as recently as five years ago - but there is a general consensus among city leaders that this isn't enough.
One city Alderman - the fourth ward's Sophia King - recently introduced an ordinance that would put a $15 minimum wage into place by 2021, the report said. While the usual business interests seem to be aligned against such an increase, early indications are that elected officials from other aldermen to Mayor Lori Lightfoot are in favor of the increase being put into place sooner than later.
Ahead of schedule
This all comes at a time when Illinois is already pushing for a hike to $15 per hour. Earlier this year, Gov. J.B. Pritzker signed a bill passed by the state legislature to increase the minimum to $15 by 2025, according to the Chicago Tribune. Currently, about 1.4 million people in the Land of Lincoln earn less than that on an hourly basis, and the number represents 1 in every 9 people or so.
The state minimum will rise to $10 per hour at the start of next year, then increase by $1 each successive year until 2025, the report said. If Chicago's new minimum-wage ordinance is passed before the end of the year, similar $1-per-year increases would be instituted at the start of 2020, and again in 2021.
Another change
Pritzker recently signed a separate minimum-wage increase bill for one particular profession in the state, according to The Huffington Post. While a person earning $15 per hour and working the full 40 hours per week for 52 weeks a year will earn a little more than $31,000 per year, teachers will be guaranteed considerably more than that: at least $40,000 annually by the 2023-24 academic year. That's equivalent to a minimum wage of more than $19 per hour.
Shockingly, teachers can currently be paid as little as $9,000 per year in some parts of the state, and there has not been a change to their minimum wage in decades. To ensure the same doesn't happen again, the teacher minimum will be tied to the cost of living after reaching that final $40,000 level.
Concerns about whether salaries are sufficient to attract and retain talent shouldn't just be for elected officials to consider. Business owners and executives in all industries should strive to offer the best possible salaries and benefits for their new and existing employees alike.