4 tips to avoid 'brain drain' in your factory
8/19/2019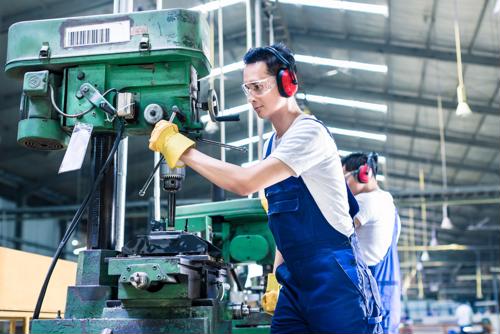 Among the biggest hurdles many manufacturers are facing today - or will face within the next few years - is that their longest-tenured older workers are aging out of the industry. While there may be more help coming thanks to training programs now in place nationwide, even the most talented new hire may not be able to replace the average employee who has decades of manufacturing experience.
Combined with high turnover rates and increased competition for talent, the risk of "brain drain" - the institutional knowledge shared by talented, experienced workers leaving your company for one reason or another - is very real. The follow four tips could help you reduce yours significantly:
1) Give them a clear path forward
Employees tend to become more likely to move on from your company if they feel stuck in their current positions with little chance of advancement, according to IndustryWeek. For that reason, it's vital that you spell out ways in which any worker can advance up the ladder for better production jobs or even management positions as long as they put in the work to get the proper training, credentialing and development, and otherwise adhere to your company's goals for any worker.
The idea that anyone could achieve these ends if they work hard enough could be enough to help your employees stay engaged and avoid looking for work elsewhere.
2) Set up an incentives program
Along similar lines, having an incentive program in place to make sure employees are properly rewarded for their hard work is vital to boosting engagement, IndustryWeek advised. Of course, you can decide what those incentives actually are, and how they're obtained by your workforce, but the idea behind them should be to encourage more effort and better work. These could be financial rewards for meeting monthly production goals, or other perks like parties, days off, preferential scheduling and so on.
3) Train regularly
As mentioned above, it's vital to ensure your workers regularly seek skills development as part of their advancement through the company, but also that everyone is getting some baseline training at least a few times a year, according to Enterprise Minnesota. This kind of effort will pay off not only in expanding your organizational capabilities, but also potentially helping people find work they like to do or making their current efforts a little easier to complete.
This effort may take several hours off the production line, but it will bring with it a strong return on investment that can't be ignored.
4) Prioritize employee compensation
HR experts point out there's a big difference between employee satisfaction and employee engagement, according to Manufacturing Global. A key component of keeping employees more than just satisfied with their positions is to make sure they are properly rewarded for all the hard work they put in. By boosting pay, benefits and perks for workers, you may not only see more worker retention, but also attract more talent on an ongoing basis.