Best practices for hiring and recruiting warehouse workers
7/31/2019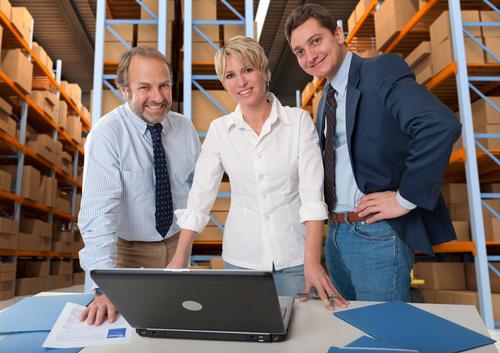 It isn't easy to find high-quality warehouse workers. What is difficult about recruiting for these employees is the fact that a lot of them are already working for organizations and not actively seeking new employment. With the rise in demand of supply chain employment and the shrinking talent pool of available warehouse workers, human resources professionals are starting to feel the pressure.
How can HR rise above the difficulties affecting the supply chain industry, finding qualified workers without the legwork they have to put in right now? We've provided some advice to help attract prospective employees to your business, so your recruiting team can work smarter, not harder.
Don't underestimate the value of employee referrals
When hiring for open warehouse positions, it can be a chore combing through candidates to see who is qualified and who is not. One way HR professionals have saved time in recruitment is by relying on employee referrals. There's a high likelihood your current workers have someone in their professional networks who would be the perfect fit for the job. Because they've worked with these potential hires in the past, they can tell you the exact strengths and weaknesses they observed.
Some organizations encourage their workers to refer candidates for openings through rewards, such as cash bonuses. While many businesses reward their staff a certain amount of money only when the candidate gets hired, some award employees whose referrals are called in for interviews. By increasing the likelihood that staff will receive awards, HR professionals encourage their more hesitant employees to refer external candidates.
Use knock-out questions in online applications
If you've applied for a job online before, you've probably seen the yes-or-no questions that can knock a candidate out of the running for a position instantly. For instance, an employer might not want to hire anyone with a history of violent crime. Or an organization might only be looking for candidates with at least two years of experience. By having knock-out questions, human resources professionals don't have to comb through every single application, only to have a deal breaker be what pushes applicants out of the running. When HR professionals upload applications onto an online format, they should be able to customize questions, so only applications with certain answers come through for their full review.
Offer the right starting pay
There's no question that warehouse workers who make hourly wages might turn down a job offer when the starting hourly wages are too low. While other factors might be important to them - benefits, workplace culture and such - nothing compares to the value placed on hourly wage. When HR is trying to bring on a qualified candidate, every dollar counts in the offer letter. In order to make sure you are offering a substantial amount of money, you may benefit from researching your market for organizations of a similar size hiring candidates with the same experience level. If you're trying to stand out among your competitors, you should try to have your pay rate be in the top quartile. Not only does significant pay help you find the candidates you're looking for, it can help you retain employees, thus contributing to your business's bottom line.
Make job descriptions as detailed as possible
If HR uploads job applications onto career sites or shares them on a public forum, these departments need to make sure they are providing enough information about the job to attract the right candidates. When HR leaves out crucial details, such as specific job duties or candidate requirements, they might be unintentionally recruiting talent that isn't the best fit for the open role. When writing out a job description, it's important to be concise and write out the exact qualities an ideal candidate should have. For warehouse roles, it is especially important to list the physical requirements of a job in order to prevent claims of discrimination under the Americans with Disabilities Act.