The safety regulations behind the most frequent warehouse hazards
7/31/2019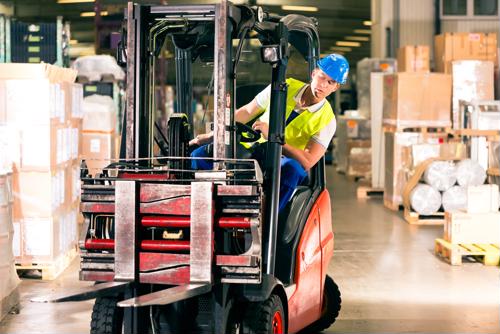 Doing work in warehouse settings comes with its fair share of risk. Because employees in these areas conduct a majority of business with hazardous chemicals and heavy machinery, warehouse staff may be prone to accidents without adequate training, top-level leadership and up-to-date tools.
The Occupational Safety and Health Administration cited the 10 most prevalent hazards impacting warehouse employees. These include:
Forklifts
Hazard communication
Electrical, wiring methods
Electrical, system design
Guarding floor and wall openings and holes
Exits
Mechanical power transmission
Respiratory protection
Lockout/tagout
Portable fire extinguishers
We don't have time to go through all 10 of these procedures right now, but we've outlined a few highlights. If you'd like to find out more about how to mitigate issues - or prevent them from happening in the first place - check out OSHA's regulations and recommendations.
Forklifts
According to OSHA, approximately 100 workers are killed and 95,000 are injured every year when using forklifts. One of the major causes of fatalities from forklifts is turnover incidents, which most often occur when the machine is not working properly or when the worker is not adequately trained to operate this vehicle.
OSHA offered some solutions to warehouse leaders trying to improve their businesses' safety culture. For instance, they should make sure all operators are trained and capable of operating forklifts safely. Workers should know to never exceed five miles per hour and must slow down when approaching areas with slippery surfaces. This also means not permitting anyone under 18 years old to use this class of machine. Additionally, warehouse leadership should ensure all forklifts are being maintained regularly so no malfunctions put workers at risk.
Hazard communication
Another prevalent issue facing warehouse employees in all industries is the communication of different hazardous materials and chemicals. To prevent workers from coming into direct contact with unsafe substances, employers should always make sure they keep a Material Safety Data Sheet available for every type of chemical employees use regularly in the warehouse. In addition to having this information readily available at all times, employers should train staff on the risks of chemical spills and direct contact with different hazardous materials.
In the case of spills, warehouse leaders should set up several spill cleanup kits near the area where chemicals are stored. They should also have a written-up spill control plan that is accessible to all workers and should train employees on how to clean up spills and dispose of extra materials. Finally, they are obligated to provide their staff with effective personal protective equipment and make sure workers are using this gear at all times when handling chemicals.
Exits
In OSHA's Fact Sheet on exit routes, the administration stated that workplaces typically have two exit routes to allow workers to evacuate the premises in case of emergencies. However, depending on the number of employees, arrangement of the warehouse and size of the building, worksites may need to have more than two exits. These exit routes are required to be situated as far away from one another as possible; that way, if one is being blocked by fire or smoke, workers can evacuate through another exit.
How exactly are warehouses expected to communicate their exit action plans to their employees? If warehouses have 10 or fewer employees, leaders may be permitted to share these plans orally. However, if their on-site workforce exceeds 10 individuals, employers are required to have a written-up action plan that is kept in the workplace and accessible to employees at all times.
Lockouts/tagouts
When warehouses look into lockout/tagout (LOTO) procedures, they are most often considering keeping employees safe after the unexpected startup of machinery or release of stored energy, which can result in severe injury and fatality. When assets are not properly controlled, hazardous energy can result in electrocution, crushing, cutting, lacerating or fracturing of body parts.
OSHA has specific standards for working alongside hazardous energy for all industries. In short, OSHA requires warehouses to take certain action to address and control hazardous energy. Additionally, the administration makes it necessary for employers to train employees on proper ways to control hazardous energy.