5 do's and don'ts for factory safety
7/8/2019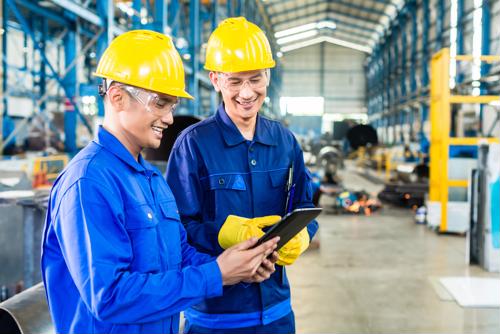 Properly managing a factory is no easy task, as there are just so many factors for an executive to account for on an ongoing basis. Even keeping tabs on some of the bigger issues they face day to day can be time-consuming and energy-intensive. Consequently, finding some of the issues over which executives might have the most control and drilling down on handling them properly can help free up time that may be better devoted to less predictable everyday needs.
Here are five do's and don'ts that can help make manufacturing management a little bit easier:
Do: Provide all necessary safety gear and training
The biggest concern in any manufacturing facility should be employee safety, not only because it's vital to avoid workplace accidents for health reasons, but also due to the fact that even a minor accident can grind production to a halt, according to The Balance Careers. Consequently, make sure all employees know how to do their jobs as safely as possible, and have the proper equipment to do so.
Don't: Slack on the dress code
Along similar lines to having the right gear, it's also important to stress to workers the importance of wearing long sleeves, steel-toed shoes, hard hats, safety goggles, work gloves and so on as required by their job duties, The Balance Careers noted. Simply providing safety gear like harnesses isn't enough if employees and their supervisors aren't vigilant about ensuring it's all being used - and used properly - for every task they perform.
Do: Only let certified staff operate machinery
There may be a tendency among workers in certain situations to want to complete a task as quickly as possible, and in doing so they may choose to use equipment they're not properly trained or licensed for, according to Forklift License Guide. This kind of decision can needlessly increase risk and, in the end, actually make factories run less efficiently. With that in mind, it's vital to discourage such practices and only allow qualified staffers to use various pieces of equipment.
Don't: Let maintenance slip
It's vital to ensure everything your employees use on a regular basis is in good working order, to prevent both accidents and breakdowns, Forklift License Guide warned. Preventive maintenance is key to operating at peak efficiency for as long as possible, so it's vital to set a rolling maintenance schedule for all your equipment and stick to it, so there aren't any outages that impede your factory's production schedule.
Do: Follow proper handling instructions for all materials
Any items you work with in the course of your daily operations need to be handled safely and effectively on an ongoing basis, according to Safety Storage Systems. This is especially true if they are hazardous chemicals or the like, of course. Even if they're not, it's nonetheless important to ensure all workers know how to do everything from lift, utilize and store any containers and the materials themselves so that nothing goes awry.
It's no coincidence that some of the most important aspects of managing a factory effectively circle back to workplace safety, because this is - or at least should be - any workplace's No. 1 priority.