5 ways to improve manufacturing safety
6/19/2019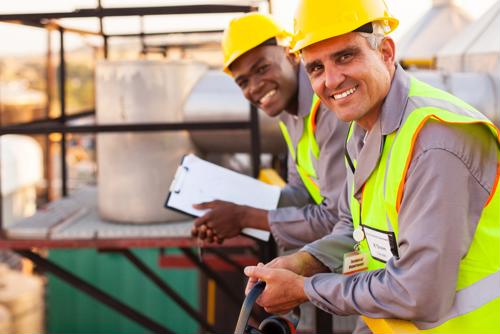 Manufacturers know that workplace safety is of paramount concern, simply because even a small accident can set operations back days or more. With that in mind, there's always more to be done when it comes to setting and upholding strong safety standards on the factory floor, so businesses should strive to evaluate and improve their efforts on an ongoing basis.
Here are five tips to help do just that and improve operations going forward:
1) Instill a culture of information sharing
One of the biggest issues that leads to unsafe working conditions in any job - let alone manufacturing - is when someone notices a potential hurdle but does not report it to someone with the authority to do something about it, according to Convergence Training. Consequently, companies would be wise to start training employees to more effectively spot possible problems before they become real safety concerns, and report them right away.
2) Ensure everything is being used properly
Training is a key part of any manufacturing operation, and one of the most important aspects of such efforts is to make sure employees know the best practices for using the tools and equipment on the factory floor, Convergence Training added. While there may be many ways to use a forklift, for example, a lot of them are unsafe shortcuts that can get the job done but still raise workplace safety risks unnecessarily. Working to curb these kinds of habits can help companies keep a clean safety record, and as an added bonus will reduce wear and tear on equipment.
3) Get spills cleaned up quickly
Unclean work spaces are among the leading causes of many manufacturing accidents, and as with reporting unsafe conditions, employees should also be empowered to do something about such issues themselves, according to the Safety Company. When they have the right equipment on hand to deal with spills and other debris, they may be more likely to take action themselves - rather than simply report it and wait for someone else to address the problem.
4) Improve injury reporting
Often, workers may be reticent to report any injuries they've picked up on the job, or don't want to make a big deal out of something that might be a minor injury, the Safety Company advised. However, companies should not accept this kind of attitude; when employees are working while injured, they may put themselves and their coworkers at greater risk for an additional accident - or worsen the injury they already have.
5) Make training an ongoing priority
While companies often train their employees on safety methods when they first come aboard or when they add new equipment to the factory floor, it's also vital to simply refresh past efforts or add new safety methods to the mix on an ongoing basis, according to California Manufacturing Technology Consulting. Doing so not only helps keeps skills fresh in workers' minds, but also communicates just how important safety is to the employer.