How can small manufacturers take a step forward?
4/30/2019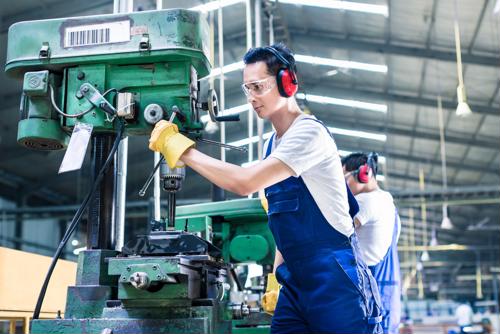 Smaller manufacturers seem to be riding the same wave of economic progress as many larger companies in their industry, but because of their size they also have to be ready to evolve quickly and easily when the opportunity presents itself.
With that in mind, here are five tips that could help any small manufacturer stay nimble and ready to take the next step:
1) Keep an eye on your supply chain
When companies are trying to grow, they often develop new products to help them do so, but that effort can also make their supply chain at least a little more complicated, according to Katana. Consequently, decision-makers have to ensure they are able to control and keep tabs on as much of the supply chain on their end as they possibly can. Any unforeseen kinks that were avoidable could set a company back at the exact wrong moment.
2) Find new ways to handle inventory
One of the biggest inefficiencies for any manufacturer is related to having too many materials on hand, Katana added. When inventory starts to pile up because of slower-than-expected production, that represents a potentially major problem for companies, especially if they spent large sums of capital to get that added inventory. When they can instead improve the flow of materials into and out of their facilities, they will be far better off.
3) Focus on communication
When you're ramping up production - either with a new product or by speeding up processes for existing ones - you will necessarily need to make sure everyone knows what's expected of them and decision-makers are monitoring and reporting all progress, according to The Fabricator. When one hand knows what the other is doing, companies are far less likely to run into inefficiencies.
4) Prioritize training
Whether you're adding a new product in the near future or just hoping to produce existing offerings more efficiently, training is the best way to make sure everyone is on the same page, The Fabricator noted. The more manufacturers of all sizes can do to make sure they train and re-train employees on production processes, the more likely they will be to continually meet their goals and position themselves well for a big leap forward when the opportunity arises.
5) Never get complacent
Simply put, it's not enough for smaller manufacturers to take a step forward and stop progressing, according to Industry Week. Instead, executives should always have plans to take one step and then another, then another, on a continual basis. That kind of forward progress is vital to ensuring a company never gets stuck in a rut and is able to meet any challenge head-on.
All of the above tips share a common thread: strategizing. Small manufacturing company owners or executives need to know exactly when is the right time to take the leap for growth, but also exactly how they have to position the business to do so.