Where is the manufacturing sector strongest?
3/14/2019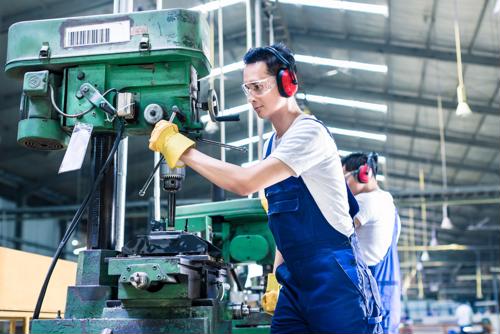 Across the U.S., manufacturing has made a significant comeback thanks to the reshoring of more jobs and an improving economy. However, the impact of the industry's improvements varies greatly by region, and some places are certainly seeing stronger production than others.
Currently, Wichita, Kansas, is considered the best city for manufacturing work, based on the total number of jobs available in the industry, that availability per capita, annual growth and median salaries, according to new analysis from Kempler Industries. Wichita is home to more than 54,000 factory jobs, with nearly 8,400 per 100,000 people in the metro area. That number is expected to grow about 4.8 percent this year, and the median factory worker there is paid about $51,450 annually.
Most of the other cities on the list are also located in the Midwest, or the Rust Belt, the report said. However, some unique markets stand out, such as Portland, Oregon (No. 5 on the list); Boise, Idaho (No. 9); Tucson, Arizona (No. 11); and San Jose, California (No. 12).
What's the issue?
Of course, there are plenty of manufacturing jobs available across the country, but certainly not enough people to fill them all, according to Carolyn Lee, the executive director of The Manufacturing Institute, writing for Fox Business. The skills gap leaves at least half a million such positions unfilled at present, and that number is only projected to balloon in the years ahead. That means employers would be wise to do more outreach and create training opportunities for both current and prospective workers, lest they find themselves struggling to find workers to fill desperately needed roles.
"We aren't just out to fill jobs; we mean to change Americans' minds, help them learn, and even bring them hope," Lee wrote. "Because, despite what some people might say, this is an industry that needs people."
The importance of higher wages
At the same time as all these issues swirl, workers within the industry continue to push for higher wages, according to Moshe Marvit and Andrew Stettner, fellows at the Century Foundation, writing for The New York Times. In any industry, there is a natural push-pull between employers that want to maximize profits and employees who want to earn a better living, but in manufacturing in particular, the lack of available and well-trained workers necessarily dictates that companies continue to provide strong packages of wages, benefits and perks. That may be especially true as it relates to time for many long-tenured workers to retire.
"When it comes to young people, manufacturers already have to overcome an outdated idea that today's factories, which are actually high-tech, remain dirty and dangerous," Marvit and Stettner wrote. "It's hard to imagine industrial companies recruiting a new generation into manufacturing at the pedestrian and downward-trending pay sought by [employees at the Pennsylvania manufacturer] Wabtec."
When companies provide manufacturing employees with higher wages and better benefits, they are more likely to both attract and retain talent on an ongoing basis. That may be critical as competition for skilled workers heats up.