Manufacturers facing down skills gap, labor shortages
2/28/2019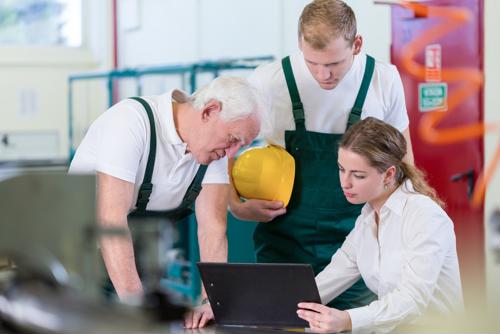 Across the U.S., many in the manufacturing sector have bemoaned the ever-growing skills gap as something that hinders not only the industry, but the entire economy. In light of these concerns, the expectation is this issue is only going to become a bigger hurdle over time, and the industry is mobilizing to deal with it sooner than later.
The manufacturing skills gap is projected to grow well above 2 million over the next decade, meaning companies will have that many jobs available but no one to fill them, according to the Minneapolis Star Tribune. This is due, in part, to job creation, but also the fact that large numbers of baby boomers are retiring from the industry; long-standing positions are left unfilled simply because there aren't enough skilled workers to take their place.
As a result, manufacturers across the country are trying to bridge that gap - and doing so aggressively, the report said.
"We are kind of on a recruiting mission," Jay Timmons, CEO of the National Association of Manufacturers, said at a recent forum in Brooklyn Park, Minnesota, according to the newspaper. "Today we have about 428,000 open jobs in this country. That's a lot of openings [and] we can't find enough people to fill those jobs."
A foot in the door
Today, many entry-level manufacturing positions pay well above the minimum wage, which should be an enticement to workers, but experts point out that many people who come into the industry now could earn double the amount available today within just five or six years on the job, according to Youngstown, Ohio, television station WKBN. Yet even if people understand that, they may still be hesitant to enter the industry, and that can be especially true for young people.
Many organizations make the process of coming into the manufacturing industry easier; they host school groups, make training programs for adults free and readily available and so on, all in the hopes of getting more people acquainted with the kind of work they do, the report said. Many municipal and state government programs and grants help them make those offerings possible, as well, because officials typically recognize the importance of a strong local manufacturing sector for job creation and economic output.
Building bridges
Along similar lines, many manufacturers also partner with nearby colleges and universities to try to onboard more workers into the industry through apprenticeship programs, according to Jeffrey Higgins, director of manufacturing apprentice programs at Vermont Technical College, writing for Forbes. These types of offerings can be extended to people in a number of different concentrations whose skills and interests align with manufacturing work, even those seeking engineering degrees.
When companies make it easier for people to come into the industry and provide them with high hourly wages and excellent benefits, those businesses may be in a better position to both attract and retain workers. That capability may be especially critical as competition for qualified workers expands along with the skills gap.