5 tips to increase manufacturing worker productivity
11/13/2019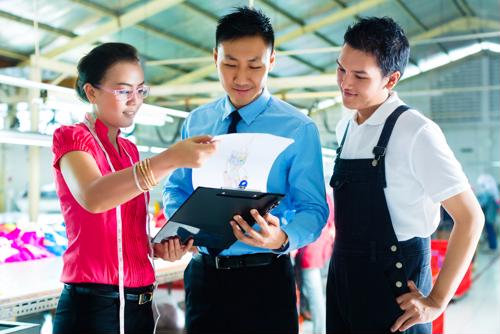 Efficiency and productivity are two of the most important things to achieve and uphold as a manufacturing business, but it's not always easy to understand how to get the most out of your processes. With that in mind, companies should strive to identify new ways to streamline operations and find ways to work more effectively.
The following tips should help achieve those goals in short order:
1) Keep better tabs on KPIs
Manufacturers are often only as good as the data they collect, and finding better key performance indicators is a must when it comes to getting a stronger handle on operations, according to the consulting firm AAFCPAs. When managers take the necessary steps to not only identify more areas that are worth tracking, but also stress the importance of hitting goals on those KPIs going forward, employees will have a better idea of exactly what they're supposed to be working toward.
2) Ask for employee feedback
No one knows your company's day-to-day operations like your employees; they're the ones on the ground actually producing the items your company churns out, AAFCPAs noted. In general, these workers will have a good idea of what works and what doesn't in your current processes, and will likely be able to recommend new and better ways of completing their work.
3) Put the right managers in place
Along similar lines, having the most effective managers running teams on an ongoing basis is something that is guaranteed to pay dividends for any manufacturer, according to Leadpoint USA. When workers have a good relationship with their managers, and those supervisors are effective at pushing for increased efficiency, everyone benefits.
4) Train regularly
Even if you have an extremely experienced workforce overall, supplementary training never hurts, Leadpoint USA advised. In fact, it's more likely to help, by reminding workers of best practices and otherwise highlighting the things your company wants to prioritize right now. Whether it's training around a new process rolling out soon, re-training on existing processes or something as simple as identifying key safety issues in the factory, this is a time investment that more than pays for itself in increased productivity.
5) Update what you need to
There is no way to ensure your factory is set up for long-term success with one or two changes made only on occasion, according to Construct Connect. If you're striving for greater productivity on an ongoing basis, the only way to achieve it is to consistently revisit every aspect of your operations and see what works and what needs improvement. The idea that you can "set it and forget it" might work for some aspects of your work, but in general your operations should be evolving constantly - and that requires diligence from the factory floor up to the boardroom.
Generally speaking, the more you can do to get insight into every single aspect of your processes, the better off your entire company will be going forward.