6 types of safety preparation for manufacturers to invest in
11/11/2019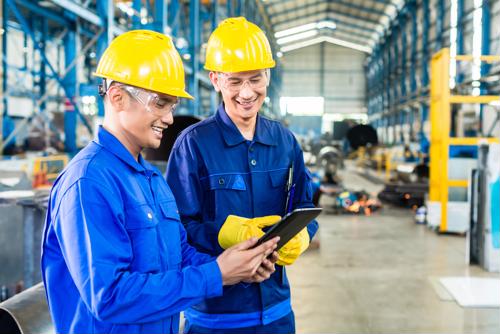 Above and beyond anything else - including your bottom line - factory safety should be your No. 1 concern as an organization. A workplace injury or accident can do major damage to your bottom line, as you may lose workers for an extended period of time, and otherwise deal with increased inefficiency amidst investigations and repairs.
With that in mind, the following steps should help you get a better handle on operational safety on an ongoing basis:
1) Create evaluation and maintenance schedules
One of the biggest issues for manufacturers is their machines and equipment go through a lot of wear and tear over the course of a week, month or year, according to Business Partner Magazine. For that reason, it's wise for supervisors to take note of recommended maintenance schedules and follow them closely, as well as set up a separate routine inspection cycle to ensure everything is in good shape.
2) Train, train, train
No matter how thorough you are about setting standards and schedules, they're not going to be much good if employees don't know what's expected of them, Business Partner Magazine noted. As a consequence, it's vital to make sure you have regular training sessions that focus on all aspects of your operations so workers know exactly how to react in any situation.
3) Provide basic safety gear
This should go without saying, but making sure your employees have a great selection of work gloves, hard hats, eye protection and more is a must in any manufacturing setting, according to Businessing. Beyond that, however, there needs to be plenty of replacement options on hand if the ones workers use every day become worn so they never compromise their personal safety.
4) Go above and beyond normal protections
In addition to required safety gear, it's also a good idea for workers to consider other options for protection - such as earplugs or no-slip safety mats, Businessing cautioned. Simply put, you can never be too careful, as any investment in safety is bound to be a good one in the long run.
5) Set a clear standard
Along with having the right safety equipment and proper training, employees should never have any question about what's appropriate to wear or how they should behave on the shop floor, according to Marine Insight. When you put your company's safety standards in writing and strive to make your requirements as clear as possible, there's no room for ambiguity.
6) Review your own standing consistently
Safety is never a set-it-and-forget-it proposition for employees or managers, Marine Insight added. As your company grows and evolves, so too will the potential safety hazards that come with your expanded operations, new capabilities and so on. Whenever this kind of change arises, make sure your plans change with it - and that any alterations to your company's safety policies are made in writing, and communicated effectively to all involved.