Illinois minimum wage poised to rise soon?
12/10/2018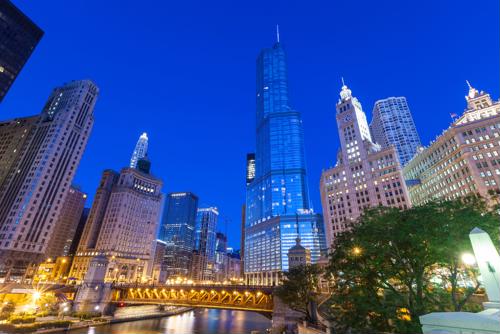 As the results of the recent election sweep more lawmakers who are generally amenable to raising the minimum wage into power, progressive governors in a number of states are signaling that such changes could go into effect sooner than later. Illinois is one such state, where new governor-elect J.B. Pritzker - who campaigned in part on a $15 minimum wage - is already making noise about the necessity of an increase.
Pritzker is now pushing lawmakers to pass a minimum-wage increase bill for the Land of Lincoln by mid-2019, and while he has not personally come out and advocated for a $15 minimum, his office recently assured the media that this was certainly the plan, according to the Chicago Sun-Times. Currently, Illinois has a statewide low-bar of $8.25, and the city of Chicago and its surrounding county both have minimums of $13 per hour in 2019 and 2020, respectively.
The governor-elect campaigned on the increase to $15 after outgoing Gov. Bruce Rauner vetoed a legislature bill to raise the minimum wage to that level last year, the report said.
"We're trying to make sure we implement a raise in the minimum wage while also making sure our small businesses are not ill-affected by it," Pritzker said at a recent press conference announcing his intentions to get the bill passed within six months of his taking office, according to the Sun-Times. "Let's realize that we can be pro-labor and pro-business and that every stakeholder has a seat at the table."
Assessing the impact
As with any sizable increase in the minimum wage, municipalities and business interests are concerned about the effect Pritzker's hoped-for hike will have on businesses, particularly locally owned, smaller companies, according to the Arlington Heights Daily Herald. Currently, full-time minimum-wage workers in the state earn only a little more than $17,000 per year before taxes if they don't take any time off and work just 40 hours per week.
Meanwhile, Illinois neighbors have taken a number of tacks with regard to higher minimum wages; Arkansas and Missouri recently voted to raise their minimum wages to $11 and $12 per hour, respectively, the report said. However, all four other states bordering it still sit at the federal minimum of just $7.25.
At the same time, Cook County has seen nearly 3 in every 4 of its Chicago suburban enclaves opt out of that region's minimum wage increase, the report said. Critics say the decision to implement a higher minimum statewide would be preferable to going on a more piecemeal basis.
Common misconceptions
With all that in mind, however, it's worth noting that over the past few decades, any time there has been even a somewhat substantial increase in the minimum wage, it has led to economic improvement, according to NPR Illinois. There may be many reasons for this, but perhaps the most salient fact is that if low-paid workers see an increase in their wages, they spend more of that money - usually in their local communities - rather than put it into savings.
When minimum wages are on the rise anywhere, companies will typically need to do more to make sure their salary offerings rise commensurately. Higher pay and better benefits are great ways to both attract and retain talent.