As 2019 approaches, factories should focus on safety
12/10/2018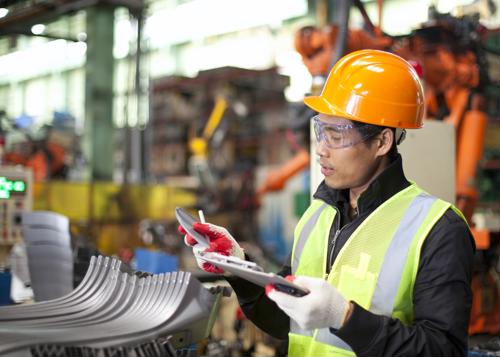 Safety - ahead of any other consideration - should be the primary focus of any manufacturing business. When workers are able to avoid injuries caused by mishaps, efficiency will only continue to increase over time with few or no setbacks. However, safe operations are a mindset, so companies need to not only put strong practices in place initially, but make sure they are being upheld - and improved upon over time.
In manufacturing, some of the most common accidents are also the most avoidable, according to Optimum Safety Management. The single violation most often cited by the U.S. Occupational Safety and Health Administration for the manufacturing and construction sectors this year was a lack of machine guarding equipment, well ahead of second-ranked lockout/tagout violations.
No. 3 on the list, was a lack of hazard communication, the report said. Respiratory protection and electrical requirement violations rounded out the top five. Companies were also regularly cited for issues related to powered industrial trucks (i.e. forklifts), a lack of protective equipment (such as head, eye and face protection), noise exposure, general health and safety violations, and process management regarding hazardous chemicals.
Dealing with the issues
With this in mind, companies should take a look at all aspects of their processes and ensure they're able to identify which areas of their specific operations might leave wiggle room for safety missteps, according to Cisco Eagle. For instance, organizations that rely on forklifts on a daily basis may have many areas where they can reduce the risk of accidents, from routinely retraining operators, to checking equipment more regularly, to and doing a better job of laying out clearer driving paths throughout a factory.
Similar steps should be taken around conveyor belts and other machines that operate consistently throughout the day, the report said. It can become easy for even experienced workers to get a little complacent about use of such equipment, but even a little laxity can lead to an accident.
Furthermore, it's wise for workers to regularly receive training and reminders about what they can personally do to reduce accidents, such as following better techniques for lifting and carrying items, or wearing all necessary safety equipment, the report said.
In the palm of their hands
Finally, it's important for workers to understand the best practices around using the tools they need on the shop floor, according to Industry Update. If tools are used carelessly, they could pose an large safety risk.
"Dropping and losing tools costs money in terms of damage and replacement," product specialist Will Small told the site. "There is also the possibility of lengthy legal implications and expensive bills to pay. And, if members of the public are involved, the problem expands and can lead to other intangible costs, like brand and reputational damage."
The more manufacturing companies can do to take a holistic look at their safety situation, the better off they are likely to be when it comes to identifying risk areas and preventing problems before they arise.