Manufacturing jobs continue gains in October hiring report
11/29/2017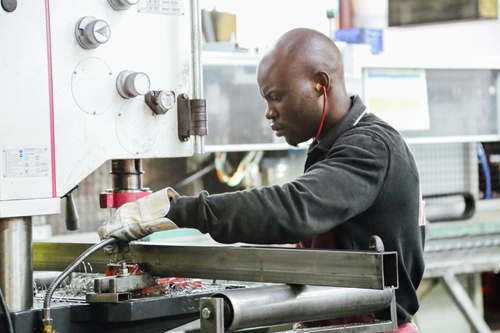 Manufacturing jobs were among the biggest gainers in October according to the monthly employment report. The hiring increase is a positive sign for the industry as it continued a trend in manufacturing employment that rolled on throughout the year and
The U.S. economy added 261,000 jobs in October and the manufacturing industry itself added 24,000 jobs, the third largest hiring increase of all industries. The hospitality industry led the way with 89,000 new hires, followed by professional and business services with 50,000 new workers.
Continuing a trend
Since the beginning of the year, manufacturing added 156,000 jobs through November 2016, according to the Bureau of Labor Statistics.
The increases signaled a return to normal hiring, after a series of storms in September slowed job growth. The total, however, was still lower than the 310,000 predicted by Wall Street experts.
"Despite coming in below expectations, this is the type of report the Fed was looking for to sign, seal, and deliver a rate hike in December," said E-Trade Financial Vice President of Investment Strategy Mike Loewengart.
"The report, albeit a little bit mixed, is still a relatively decent number. It still points towards the positive trend that we've seen in payroll growth over the last several months and the last couple of years actually," said Tony Bedikian, head of global markets at Citizens Bank.
Improvement within the sector
The durable goods segment of manufacturing posted the biggest gain within the sector, adding approximately 19,000 jobs, the BLS reported.
Other sector leaders were computer and electronic products (4,700 jobs added), fabricated metal products (4,000) and motorized vehicle parts (3,400).
Meanwhile, Advanced Manufacturing reported the total number of manufacturing workers in the industry reached 12.481 million (seasonally adjusted), up from 12.235 in October of 2016.
The increase in employment is a good sign for a segment that has been undergoing change due to the introduction of automation and other technologies. Still, the total is much lower than the manufacturing job high point of 19.6 million (adjusted) in June 1979, but it is better than the low of 11.45 million (adjusted) in February 2010.
According to Cutting Tool Engineering, the U.S. has lost 5 million manufacturing jobs since the start of the new millennium.
A new section of the industry, advanced manufacturing, targets those workers who are skilled with computers and advanced machinery. CTE reports that the White House is calling for 3.5 million workers over the next 10 years to fill those jobs.
Thanks in part to the growth of new industry segments, manufacturing jobs appear poised to continue to increase in the coming year. The industry should be prepared to further train and employ this new surge of workers.