Industry prepares to fill middle skills manufacturing jobs
11/14/2017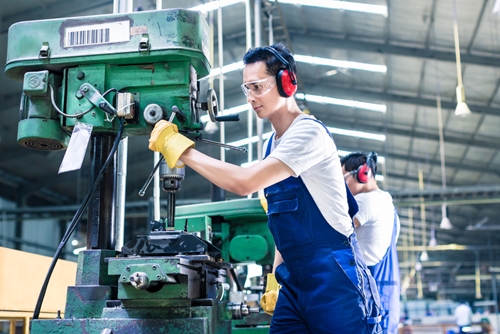 Technological advances are changing manufacturing jobs as automation and related innovations become more prevalent. But between those high-tech positions and entry level opportunities, there exists jobs that don't require advanced education but are still vital to the industry.
Middle skills jobs
These positions are called middle skills job and as manufacturing companies seek workers for those important roles, several municipalities are creating programs to address the demand.
Middle skills positions are those manufacturing jobs that don't require a college degree but do require advanced knowledge of the industry that many people currently do not have, the Albany Times Union stated. Those skills may include the ability to read a blueprint or perform basic shop math.
Because of the difficulty in finding manufacturing workers who possess those skills, companies are having a tough time filling traditional manufacturing positions such as assemblers, machinists, tool and die makers and electrical technicians.
According to the National Skills Coalition (NSC), 53 percent of all jobs in 2015 were middle skills jobs. However, only 43 percent of workers in the U.S. were trained for those positions.
The NSC adds that nearly half of all job openings from now to 2024 will be middle-skills jobs.
In an effort to close the middle skills gap, states are teaming with public and private agencies to provide training to workers that can address the critical needs that exist now and in the future.
Albany partnership
One such partnership, the Times Union reported, is occurring in Albany, New York, where the Center of Economic Growth (CEG) is joining Hudson Valley Community College to create a program to train potential hires in basic manufacturing skills. The long-term goal is that they will be prepared for future apprenticeship or college associate degree programs.
The Manufacturing Technology Pathways program, which the Times Union stated is modeled after Massachusetts' Manufacturing Advancement Center Workforce Collaborative, which uses "stackable" credentials that are compiled to create a full manufacturing educational program.
For Albany, the need to fill the middle skills gap is growing rapidly. A CEG study found the manufacturing sector has expanded by 10 percent during the past five years, with more than 3,000 new manufacturing workers added during that span. It's a marked difference from the overall state manufacturing hiring picture, which showed a 2.1 percent job loss in the manufacturing workforce.
"This (local) industry is growing faster than positions can be filled," Hudson Valley Community College President Drew Matonak told the Times Union.
It's important that manufacturing companies recognize the growing demand for those workers with the vital middle skills that are an essential part of the industry. By addressing the issue now and partnering with agencies that can help train people for these roles, they will be well positioned to address future needs.