5 keys to making manufacturing safety a priority at your company
11/2/2017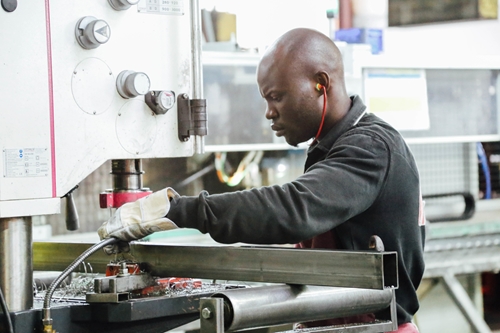 Safety is becoming a bigger focus for companies in the manufacturing industries. Through a combination of government safety standards and programs, and self-monitoring efforts by the companies themselves, workplace safety statistics are moving in a positive direction and manufacturing safety is becoming a priority.
Accidents decreasing
According to the Occupational Health and Safety Administration (OSHA) the number of worker deaths in the U.S. has fallen sharply, from approximately 38 a day in 1970 to 13 a day in 2015. Meanwhile, worker injuries and related illnesses fell from 10.9 incidents for every 100 workers in 1972 to 3.0 per 100 in 2015.
In addition to the physical hardship, workplace injuries create a huge economic burden for businesses as well. According to the 2017 Liberty Mutual Workplace Safety Index, the most serious workplace injuries cost U.S. firms more than $59 billion per year.
Still, despite the positive trend, the concerns about safety in manufacturing remain. Even with automation taking over many aspects of the process, humans have a central role in the industry and as such will still need to take precaution to minimize the risk of injury and death on the job.
According to OSHA, the top 10 most frequently cited safety standard violations in 2016 were:
Fall protection
Scaffolding
Respiratory protection
Control of hazardous energy
Powered industrial trucks
Ladders at construction sites
Machinery and machine guarding
Electrical wiring
Electrical system design
Keys to safety
To minimize the risk of injury in the manufacturing sector, OSHA suggests businesses add the following adopt the following actions:
A top-level program: A company's leadership team should prioritize accident prevention over productivity and set the tone for the company.
Utilize supervisors: Having a team in place that can effectively deliver the message of best practices to employees is vital. Supervisors who combine their leadership skills with a dedication to measures can help create a healthier workplace for manufacturing workers.
Install devices: Creating a safe manufacturing environment also means also installing the equipment that prevents unnecessary accidents. Workplaces should include guardrails, shields, proper signage, floor directions, etc. to alert employees to possibly hazardous situations.
Create response procedures: Make sure employees are familiar with the actions to take in the event of an accident or emergency situation. Try to keep them simple and easy to understand so they're more likely to be adhered to as intended.
Reinforce your company policies and expectations: In addition to keeping your company's safety rules clear and concise, you should reinforce and evaluate them to make sure they remain in compliance with OSHA regulations. In addition, make special recognition of proper actions or behaviors to encourage employees to follow procedures.
By placing a strong commitment on programs and actions that promote safety, manufacturers can keep their workplace injuries to a minimum. This emphasis will reduce the expense associated with those accidents and create a more productive work environment.